This post may contain affiliate links. As an Amazon Associate I earn from qualifying purchases. Please see my disclosure policy for more information.
Whew! I'm back. We took a family vacation for a week and a half and I had the best of intentions. I brought my laptop + notebooks. I had a mile-long to-do list. I thought, "Asher still naps during the day. He goes to bed early every night. I'll have TONS of time to get great work done on our trip!"
Smash cut to me various scenes of me napping, reading, vegging, and doing everything in my power to avoid any sort of work. Whoops. No regrets because: vacation, but I do wish I was the type to schedule blog posts to go up in advance. (I'm not.) At any rate, absence has made the heart grow fonder and I am so very fond of SugarHero now. Let's do this thing! On with the show!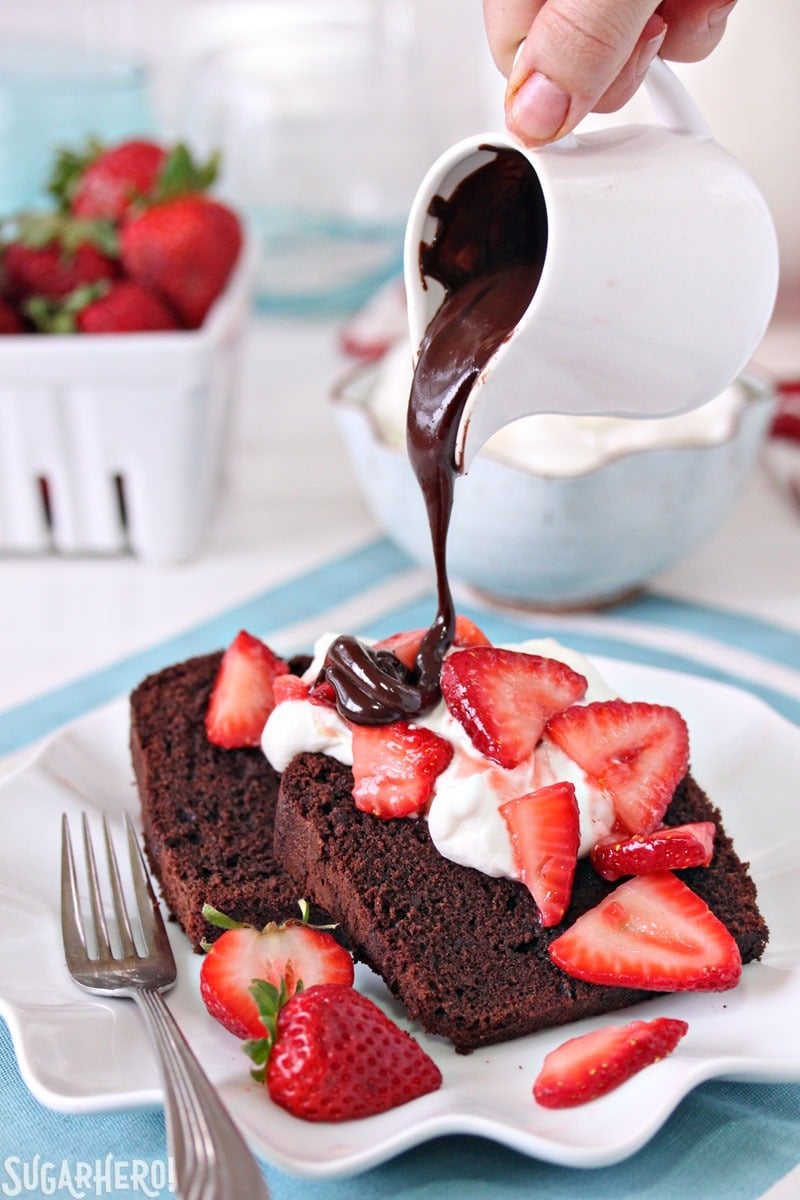 Today's recipe is deceptively simple. Chocolate pound cake isn't a tall, sexy layer cake or an ooey, gooey Pinterest-bait concoction, but it's still one of my favorites. Pound cake is like the little black dress of the dessert world: always in style, always appropriate, always delicious. You can serve it in slices like a quick bread and eat it from your hand, or you can fancy it up with berries, cream, or chocolate sauce and make it a proper dessert.
I actually made this recipe four different times before I found a version that I loved. I wanted it moist, moist, moist, so it would keep for days, in case there are crazies out there who manage to not eat all of their cake in one sitting. I also wanted it to have a really deep cocoa flavor—not one of those light brown chocolate-ish cakes that I've been disappointed by in the past.
Threading the needle between good texture and great flavor took a bit of tweaking, but I'm so happy with the end result! This is my perfect pound cake: soft and plush inside, with a crackly top and a dark chocolate taste.
I won't judge you if you want to eat it plain—one of the great things about pound cake is that it's a perfect snackin' cake! Cut off a sliver here or there, cart it around in your palm, take a nibble in between typing emails—it's tidy, perfectly satisfying on its own, and doesn't feel like a gut-bomb.
HOWEVER. Want to take your pound cake experience up a level? Get yourself some strawberries, chop them coarsely, then mix them with a bit of sugar. Mash everything together and let them sit until they're a gloriously syrupy mess. Then dollop a big pile of softly whipped cream onto a slice of pound cake, pour on those strawberries, and finish with some chocolate sauce or ganache. Yessssssss.
I know strawberry shortcake is the more traditional summer dessert, but there's no reason we can't switch out the boring old shortcakes for some chocolate pound cake instead. Let's make the most of summer strawberries by having this all day, erryday, okay? Okay.
Chocolate Pound Cake
This Chocolate Pound Cake has a really deep cocoa flavor—not one of those light brown chocolate-ish cakes that I've been disappointed by in the past. This is my perfect pound cake: soft and plush inside, with a crackly top and a dark chocolate taste.
Ingredients
5

oz

cake flour

,

(1 1/4 cups)

2

oz

unsweetened cocoa powder,

(2/3 cup)

1/3

tsp

salt

6

oz

butter

,

at room temperature

8.75

oz

granulated sugar

,

(1.25 cups)

3

eggs

,

at room temperature

2

tsp

vanilla extract

2

tsp

instant espresso powder,

(optional)

4

oz

cream

,

(1/2 cup)

4

oz

bittersweet chocolate

,

finely grated
Instructions
Preheat the oven to 350 F. Spray an 8.5x4.5" loaf pan with nonstick cooking spray. (A larger loaf pan can be used, resulting in a shorter pound cake.) Cut a strip of parchment the width of the pan's bottom, and lay it along the bottom of the pan, extending up over the sides. Spray the parchment.

Sift together the cake flour, cocoa powder, and salt. Sift them a total of three times, to give the cake an extra fine, light texture.

Combine the butter and sugar in the bowl of a large stand mixer fitted with a paddle attachment. Cream them together on medium-high speed for 5 minutes, until very light and fluffy. Add the eggs one at a time, beating well after each addition. Add the vanilla and mix well.

Stir together the cream and espresso powder, if you're using it. With the mixer running on low, add half of the flour to the mixing bowl, and when it's nearly incorporated, add the cream. Once the cream is mixed in, add the remaining flour, and mix until just a few flour streaks remain. Stop the mixer and finish mixing by hand, stirring with a spatula and scraping the bottom and sides of the bowl. Add the grated chocolate and gently stir it in.

Scrape the batter into the loaf pan and spread it into an even layer. Bake the cake at 350 F for 60-70 minutes, until a toothpick inserted into the center comes out with just a few moist crumbs attached. If the top seems to be getting too dark while baking, cover it with loosely tented foil.

Let the cake cool for 15 minutes, then run a knife gently around the edges of the pan. Use the parchment to help you pop the cake out of the pan, and cool it completely on a wire rack. Serve slices of pound cake with whipped cream, strawberries, and/or chocolate sauce.
MEASURING TIPS
Our recipes are developed using weight measurements, and we highly recommend using a kitchen scale for baking whenever possible. However, if you prefer to use cups, volume measurements are provided as well. PLEASE NOTE: the adage "8 oz = 1 cup" is NOT true when speaking about weight, so don't be concerned if the measurements don't fit this formula.
Click here to learn more about baking measurements and conversion.
Nutrition
Serving:
14
g
|
Calories:
292
kcal
|
Carbohydrates:
32
g
|
Protein:
3
g
|
Fat:
17
g
|
Saturated Fat:
10
g
|
Cholesterol:
72
mg
|
Sodium:
160
mg
|
Potassium:
144
mg
|
Fiber:
2
g
|
Sugar:
20
g
|
Vitamin A:
480
IU
|
Vitamin C:
0
mg
|
Calcium:
25
mg
|
Iron:
1.3
mg
Share by Email
Share on Facebook
Share on Pinterest